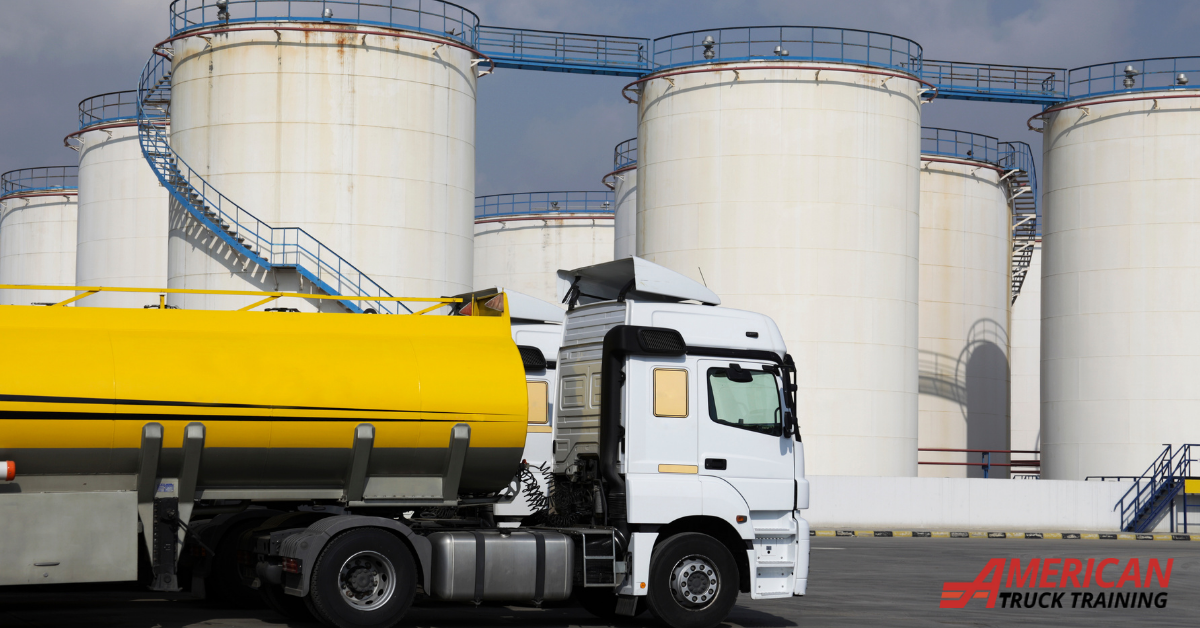 As we talked about in our previous article, 5 Ways to Maximize Your Truck Driver Salary, adding an endorsement to your CDL can do just that! Lucky for you, American Truck Training (ATT) now offers an 8 hour-class to obtain a combination endorsement including both a HazMat Endorsement and Tanker Endorsement. This combo endorsement will be added to your current CDL as an X endorsement.
Obtaining a Hazardous Material endorsement as a truck driver offers numerous benefits. It makes you a more desired driver because you can deliver a wider range of loads, potentially resulting in a larger payout. Although the steps to obtain this endorsement appear to be complex, they are not; and ATT makes it even easier.
If you are looking to increase your paycheck by hauling hazardous materials, sign up for our HazMat/Tanker endorsement class today!
HazMat Endorsement Requirements
First, take a look at the endorsement requirements below. If you have any questions about these requirements or your eligibility, please call our recruiting team at 405-254-5556.
Must be at least 18 years old
Hold a valid Commercial Driver's License (CDL) or CDL permit
Need proof of identity (a U.S. passport, birth certificate, or Certificate of U.S. Citizenship)
Pass your DOT physical and obtain your medical examiner's certificate (MEC)
Pass your vision test
As stated above, you must hold a valid CDL to apply for the HazMat endorsement. To operate commercial motor vehicles that transport hazardous materials, a driver with an Oklahoma State CDL must have an "H" HazMat endorsement or "X" HazMat/Tanker endorsement. Each renewal also necessitates a fresh TSA background check. The Hazardous Materials Endorsement Threat Assessment Program, according to the TSA, conducts a threat assessment for any motorist who wants to get, renew, or transfer a hazardous materials endorsement on a state-issued commercial driver's license.
Also note that EFFECTIVE on February 7, 2022, if you have never had a Hazardous Material endorsement prior to Feb. 7, 2022, you must complete the HazMat entry-level driver training (ELDT) before taking the HazMat Knowledge Test. Best part is, we can help you with this part too at ATT! American Truck Training is a certified FMCSA Training Provider. For additional information on the ELDT requirement, go to the ELDT page on FMCSA.gov.
HazMat Endorsement Eligibility
In addition to the requirements, you are only eligible if you are a U.S. citizen, lawful permanent resident, naturalized citizen, or a nonimmigrant alien, asylee, or refugee in lawful status with a CDL issued by a U.S. state.
Applicants may also be ineligible for the following reasons:
False or misleading information on your application.
Disqualifying criminal offenses and other incriminating factors.
Do I need to take a written test?
Yes, you must pass a HazMat endorsement written test that you can take at our truck training facilities in OKC at the end of your 8-hour class!
Now that you have all the details to make more money with this endorsement on your CDL, call us today at 405-254-5556! Enroll in our 8-hour Hazmat/Tanker endorsement class and you'll be ready in no time.