STUDENT TESTIMONIALS
At American Truck Training, we strive to accommodate and help our students start their careers in trucking no matter what! With hands-on training and experienced instructors, we know we are the elite CDL training in OKC.  But don't take our word for it, read these testimonials from American Truck Training students.
Are you a graduate of American Truck Training or a current student of ATT? Please submit your testimonial below and help future truckers looking to earn their CDL in Oklahoma City.
START DATES AVAILABLE EVERY MONTH
Get Started
(405) 254-5556
From administration to classroom to the yard crew, very pleased! As long as you're willing to learn they are willing to help you out! Shout out to Jeff, Abby, Pj, Shawn, Charles, John, Don, Buck, Jason, Craig!❤️
Went there in 2020 not knowing how to drive a standard and they taught me a lot about trucking an how to prepare for anything
From beginning to the end ATT all of the staff were helpful and encouraging. From being frustrated about having to retake schooling due to new laws – to the anxiety of test day.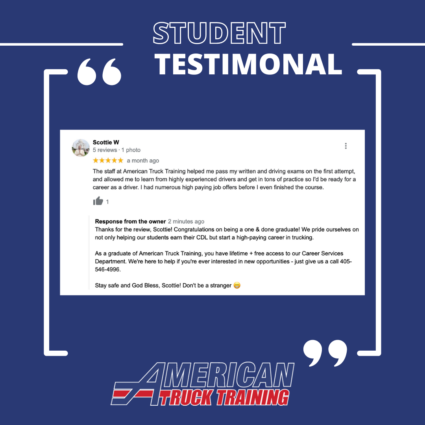 Scottie W.
"The staff at American Truck Training helped me pass my written and driving exams on the first attempt and allowed me to learn from highly experienced drivers and get in tons of practice so I'd be ready for a career as a driver. I had numerous high-paying job offers before I even finished the course."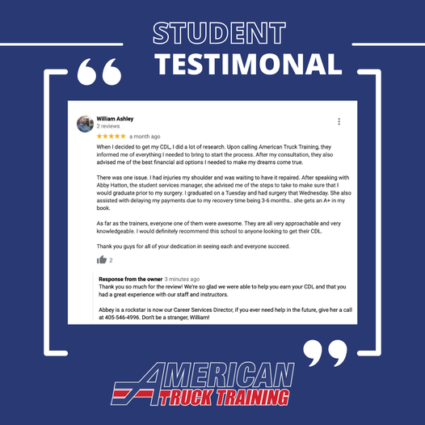 William A.
"When I decided to get my CDL, I did a lot of research. Upon calling American Truck Training, they informed me of everything I needed to bring to start the process. After my consultation, they also advised me of the best financial aid options I needed to make my dreams come true.
There was one issue. I had injured my shoulder and was waiting to have it repaired. After speaking with Abby Hatton, the student services manager, she advised me of the steps to take to make sure that I would graduate prior to my surgery. I graduated on a Tuesday and had surgery that Wednesday. She also assisted with delaying my payments due to my recovery time being 3-6 months.. she gets an A+ in my book.
As far as the trainers, everyone one of them were awesome. They are all very approachable and very knowledgeable. I would definitely recommend this school to anyone looking to get their CDL. Thank you guys for all of your dedication in seeing each and everyone succeed."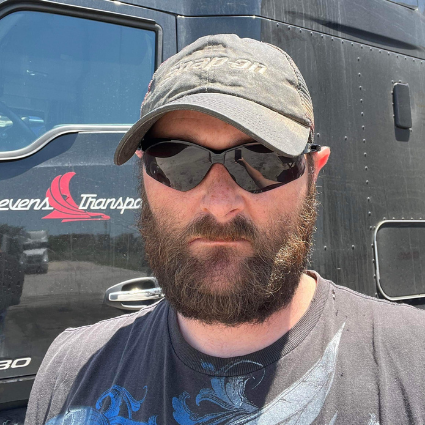 Corry B.
"I just want to say thank you for everything. I got a really good career ahead of me thanks to American Truck Training. You really do you got an amazing staff and God bless you and your family and your crew. Whatever you're doing to make American Truck Training great, keep it up because it's working. Hope to see you in the future."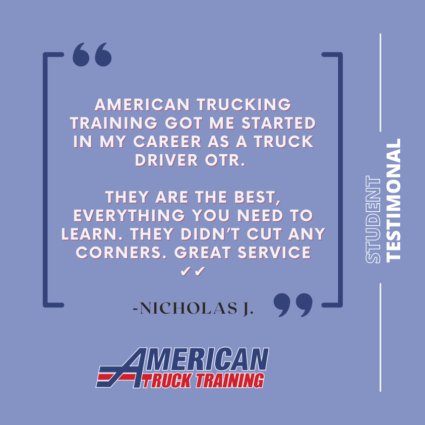 Nicholas J.
"American trucking training got me started in my career as a truck driver OTR. They are the best, everything you need to learn. They didn't cut any corners. Great service."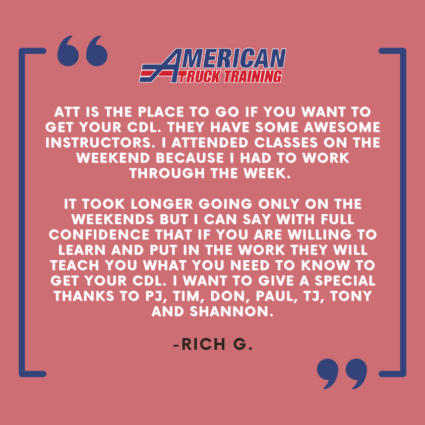 Rich G.
"ATT is the place to go if you want to get your CDL. They have some awesome instructors. I attended classes on the weekend because I had to work through the week.
It took longer going only on the weekends but I can say with full confidence that if you are willing to learn and put in the work they will teach you what you need to know to get your CDL. I want to give a special thanks to PJ, Tim, Don, Paul, TJ, Tony, and Shannon."
---
---
Please submit your ATT testimonial below and help future truckers learn more about earning their CDL at American Truck Training.
---
---
More ATT Student Testimonials