STUDENT TESTIMONIALS
At American Truck Training, we strive to accommodate and help our students start their careers in trucking no matter what! With hands-on training and experienced instructors, we know we are the elite CDL training in OKC.  But don't take our word for it, read these testimonials from American Truck Training students.
START DATES AVAILABLE EVERY MONTH
Request Free Info!
(405) 254-5556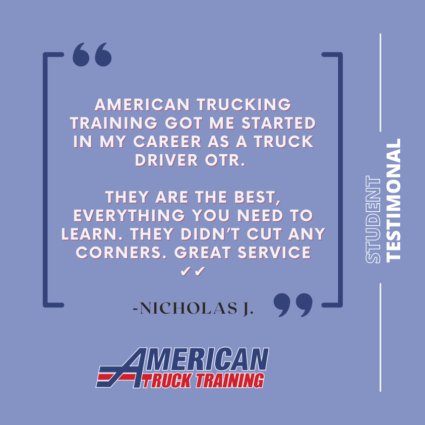 Nicholas J.
"American trucking training got me started in my career as a truck driver OTR. They are the best, everything you need to learn. They didn't cut any corners. Great service."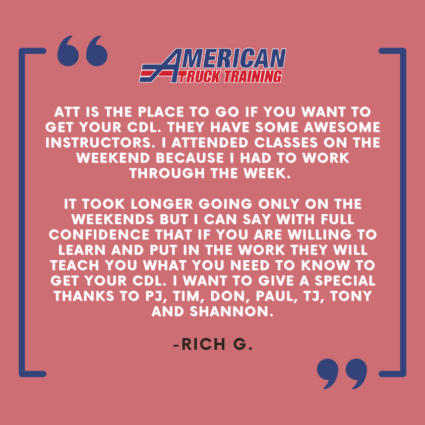 Rich G.
"ATT is the place to go if you want to get your CDL. They have some awesome instructors. I attended classes on the weekend because I had to work through the week.
It took longer going only on the weekends but I can say with full confidence that if you are willing to learn and put in the work they will teach you what you need to know to get your CDL. I want to give a special thanks to PJ, Tim, Don, Paul, TJ, Tony, and Shannon."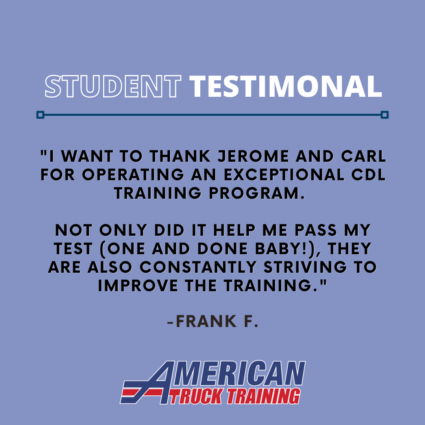 Frank F.
"I want to thank Jerome and Carl for operating an exceptional CDL training program. Not only did it help me pass my test (one and done baby!), they are also constantly striving to improve the training."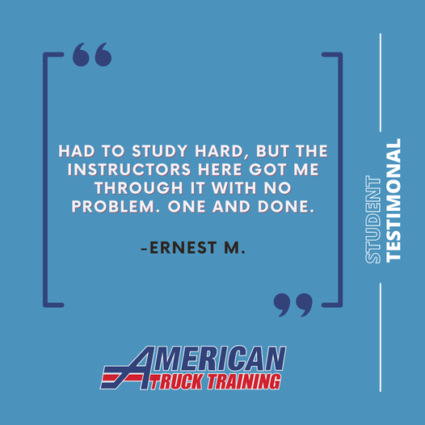 Ernest M.
"Had to study hard, but the instructors here got me through it with no problem. One and done."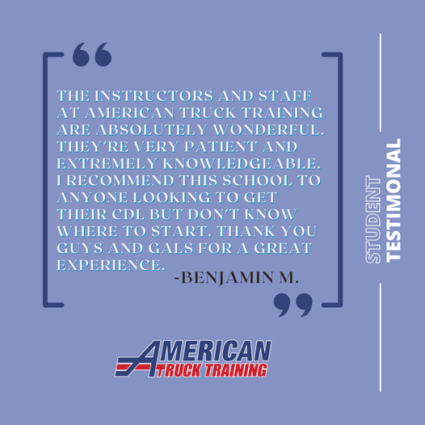 Benjamin M.
"The instructors and staff at Americal Truck Training are absolutely wonderful. They're very patient and extremely knowledgeable. I recommend this school to anyone looking to get their CDL but don't know where to start. Thank you guys and gals for a great experience."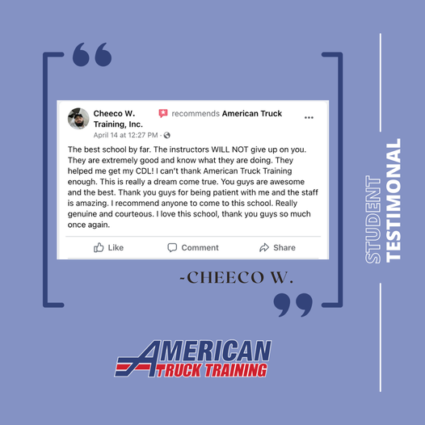 Cheeco W.
"The best school by far. The instructors WILL NOT give up on you. They are extremely good and know what they are doing. They helped me get my CDL! I can't thank American Truck Training enough. This is really a dream come true. You guys are awesome and the best. Thank you guys for being patient with me and the staff is amazing. I recommend anyone to come to this school. Really genuine and courteous. I love this school, thank you guys so much once again."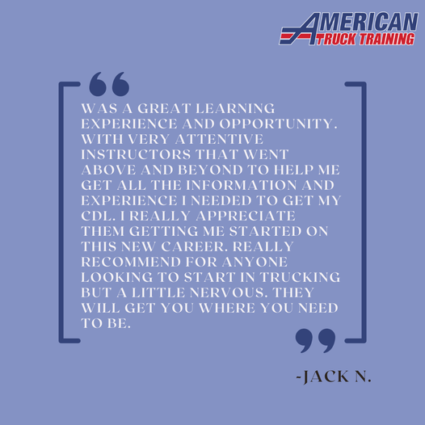 Jack N.
"Was a great learning experience and opportunity with very attentive instructors that went above and beyond to help me get all the information and experience I needed to get my CDL. I really appreciate them getting me started on this new career. Really recommend for anyone looking to start in trucking but a little nervous. They will get you where you need to be."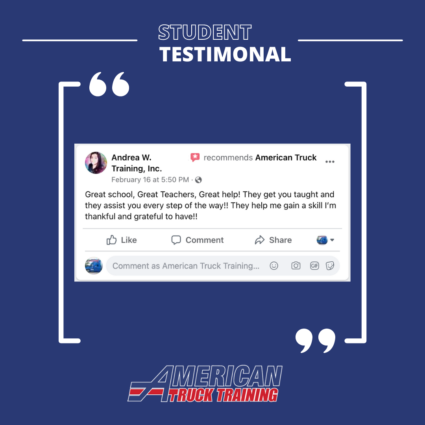 Andrea W.
"Great school. Great teachers. Great help! They get you taught and they assist you every step of the way!! They have helped me gain a skill I'm thankful and grateful to have!!"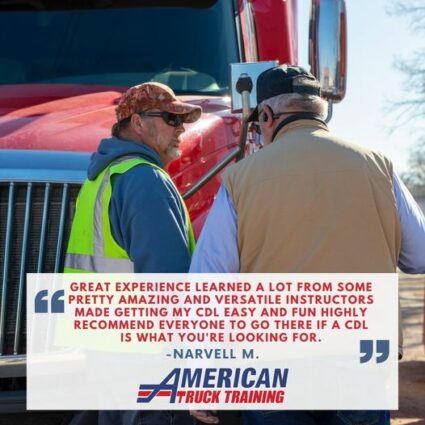 Narvell M.
"Great experience. Learned a lot from some pretty amazing and versatile instructors. Made getting my CDL easy and fun. Highly recommend everyone to go there if a CDL is what you're looking for."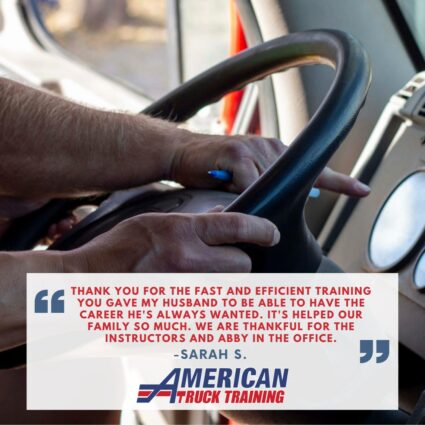 Sarah S.
"Thank you for the fast and efficient training you gave my husband to be able to have the career he's always wanted. It's helped our family so much. We are thankful for the instructors and the office."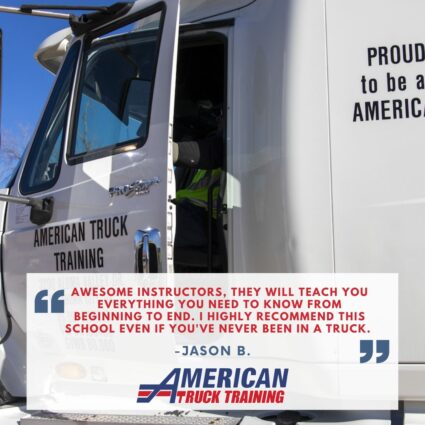 Jason B.
"Awesome instructors, they will teach you everything you need to know from beginning to end. I highly recommend this school even if you've never been in a truck."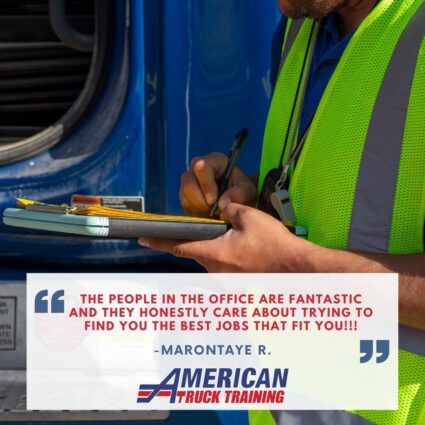 Marontaye R.
"The people in the office are fantastic and they honestly care about trying to find you the best jobs that fit you!"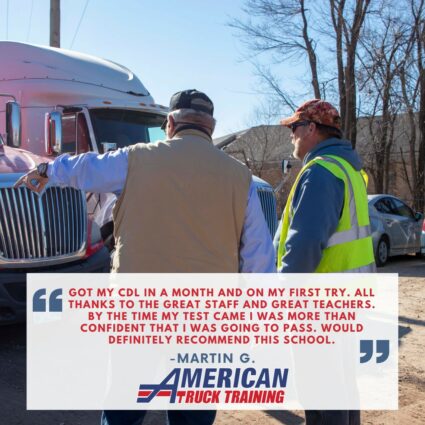 Martin G.
"Got my CDL in a month and on my first try. All thanks to the great staff and great teachers. By the time my test came, I was more than confident that I was going to pass. Would definitely recommend this school."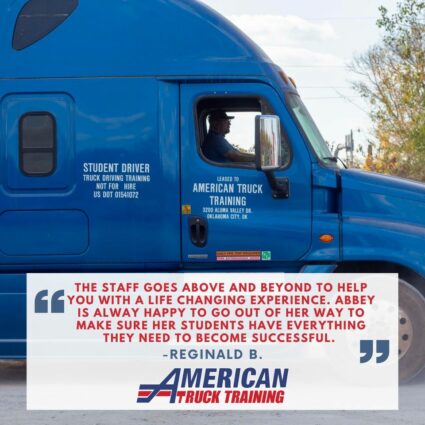 Reginald B.
"The staff goes above and beyond to help you with a life-changing experience. Abbey is always happy to go out of her way to make sure her students have everything they need to become successful."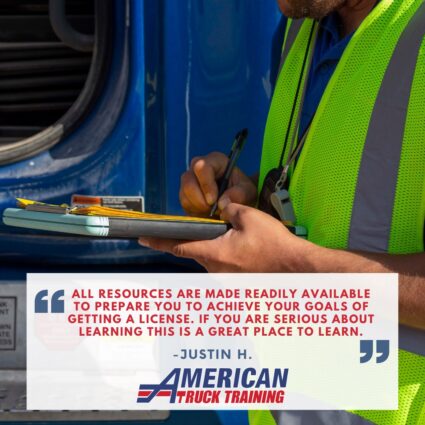 Justin H.
"All resources are made readily available to prepare you to achieve your goals of getting a license. If you are serious about learning, this is a great place to learn."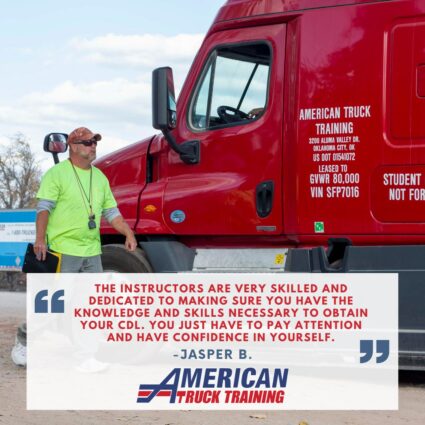 Jasper B.
"The instructors are very skilled and dedicated in making sure you have the knowledge and skills necessary to obtain your CDL. You just have to pay attention and have confidence in yourself."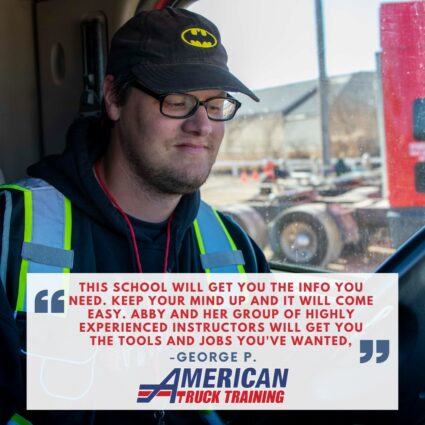 George P.
"This school will get you the info you need. Keep your mind up and it will come easy. Abby and her group of highly experienced instructors will get you the tools and jobs you've wanted."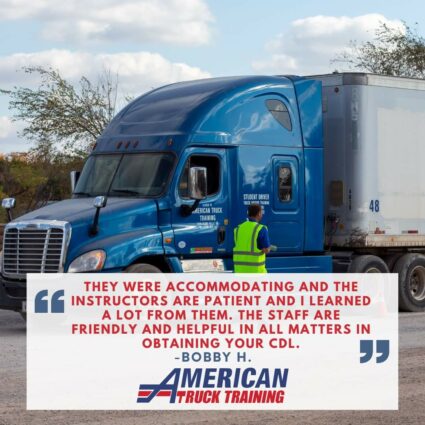 Bobby H.
"They were accommodating and the instructors are patient and I learned a lot from them. The staff is friendly and helpful in all matters in obtaining your CDL."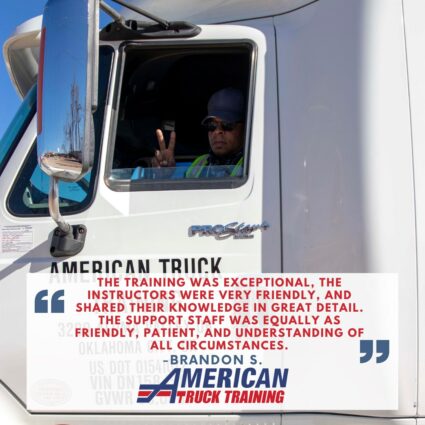 Brandon S.
"The training was exceptional, the instructors were very friendly and shared their knowledge in great detail. The support staff was equally as friendly, patient and understanding of all circumstances."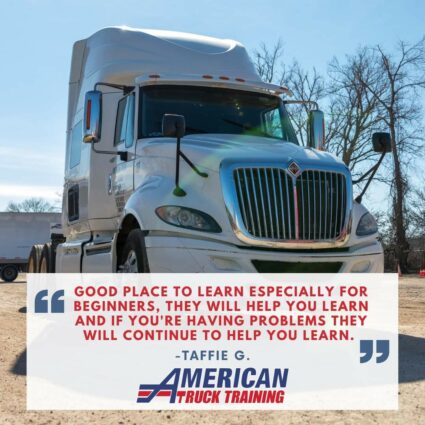 Taffie G.
"Good place to learn, especially for beginners. They will help you learn and if you're having problems, they will continue to help you learn."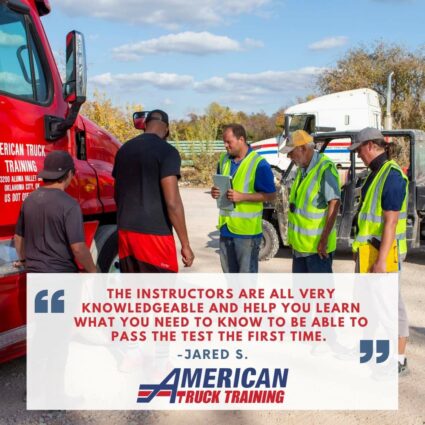 Jared S.
"The instructors are all very knowledgeable and help you learn what you need to know to be able to pass the test the first time."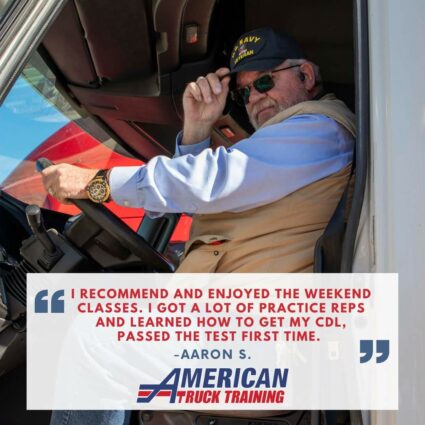 Aaron S.
"I recommend and enjoyed the weekend classes. I got a lot of practice reps and learned how to get my CDL, passed the test first time."