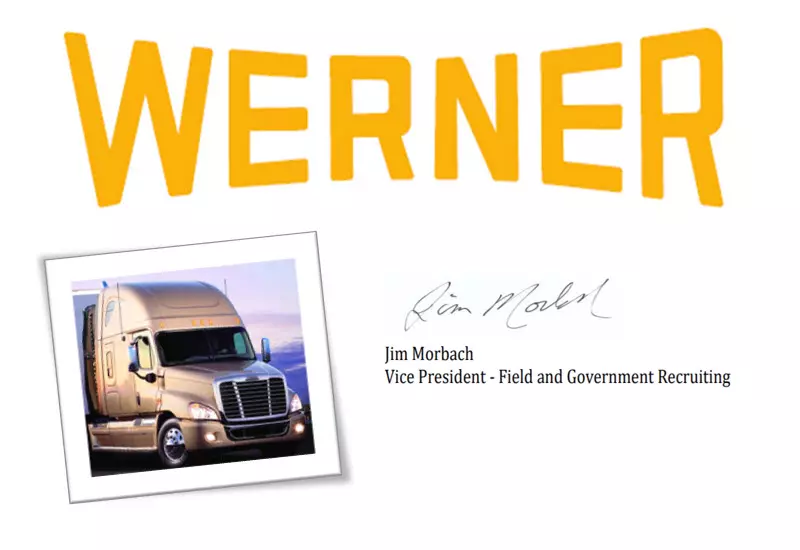 American Truck Training graduates are in demand for high-paying jobs at Werner Enterprises, which is one of the top five commercial trucking companies in the U.S. At Werner, professional truck drivers can earn from $50,000 per year up to $75,000 and more.
Werner Enterprises Endorses American Truck Training

American Truck Training is Werner's preferred CDL school for hiring professional truck drivers in Oklahoma. In April 2020, Werner Enterprises endorsed ATT for its excellent, highly respected trucker education program. Here's what Jim Morbach, Vice President of Field and Government Recruiting, had to say.
With company growth and the importance of consumer products needing to be delivered, it is essential that Werner continues to hire the next generation of professional truck drivers from American Truck Training. Werner Enterprises has had a strong relationship with American Truck Training for many years and their training program is one of the most respected in the industry, due to its focus on quality training.
Read the complete endorsement here
American Truck Training's comprehensive 160-hour Class A CDL program includes instruction in government regulations, safety, mechanics and vehicle maintenance, and plenty of behind-the-wheel time. Moreover, students master key driving skills through repeated practice, using late-model trucks like the ones they'll be driving on the job. Likewise, graduates are well prepared for each part of their demanding CDL tests. Even though the tests have a high fail rate, 85 percent of ATT students pass all three parts on their first try.
With American Truck Training's outstanding instruction and proven test results, companies like Werner are eager to hire graduates, knowing they're well trained and ready for the road.
Truck Driving Jobs at Werner Enterprises
Werner Enterprises is a driver-centered company with a wide variety of CDL graduate job opportunities. Drivers with Werner earn an average of $50,000 per year, plus monthly mileage bonuses. For some positions, the pay can top $75,000. The benefits are great, too. In addition, the company offers health insurance, dental insurance, employee stock purchase options, 401K matching, tuition reimbursement, and more. Drivers even get a sign-on bonus for some positions.
Jobs with Werner include over-the-road, regional, local, and team driving positions. Many jobs allow truckers to be home weekly or even more often. Furthermore, truck drivers enjoy late-model equipment with automatic transmissions and premium safety features.
With more than 8,000 trucks, 24,000 trailers, and almost 13,000 employees, Werner is a national leader in the transportation and logistics industry. It operates in the US and on five continents. As the demand for truckers grows, there's no lack of opportunities for American Truck Training graduates at Werner Enterprises.
American Truck Training CDL Graduates are on the Road to Success
American Truck Training's main goal is to provide skilled CDL training and job placement for its students. With a 98 percent job placement rate, many satisfied graduates have landed long-haul trucker jobs with Werner and other top trucking companies. April Hull, a proud grandmother, and American Truck Training grad is one of Werner's new hires.
April was hired as an over-the-road truck driver with Werner in 2019. As a recent graduate of American Truck Training, she landed her new position through ATT's job placement assistance program.
April is a mother of three and a grandmother of four from Chickasha, Oklahoma. She needed a career change, so she enrolled in American Truck Training in fall 2019 to get licensed as a professional truck driver. By the end of the year, she was on the road with Werner.
Her path to a new career may have been quick, but it wasn't always easy. Like many ATT students, she didn't have previous truck-driving experience. It took practice and patience to learn the rules of the road. April praises her instructors for never giving up on her. They motivated her to achieve the success she's enjoying today.
April couldn't be happier with her new career. She loves getting paid to drive and see the country.
Find Your Dream Truck Driving Job Through American Truck Training
American Truck Training is honored to put graduates like April Hull on the road to success. A new four-week training program will begin soon, and there's a spot for you. After you graduate and get your CDL, you can take advantage of ATT's job placement program to find opportunities with a leading company like Werner, just as April did. Check out American Truck Training's easy admissions process to get started with your new career.