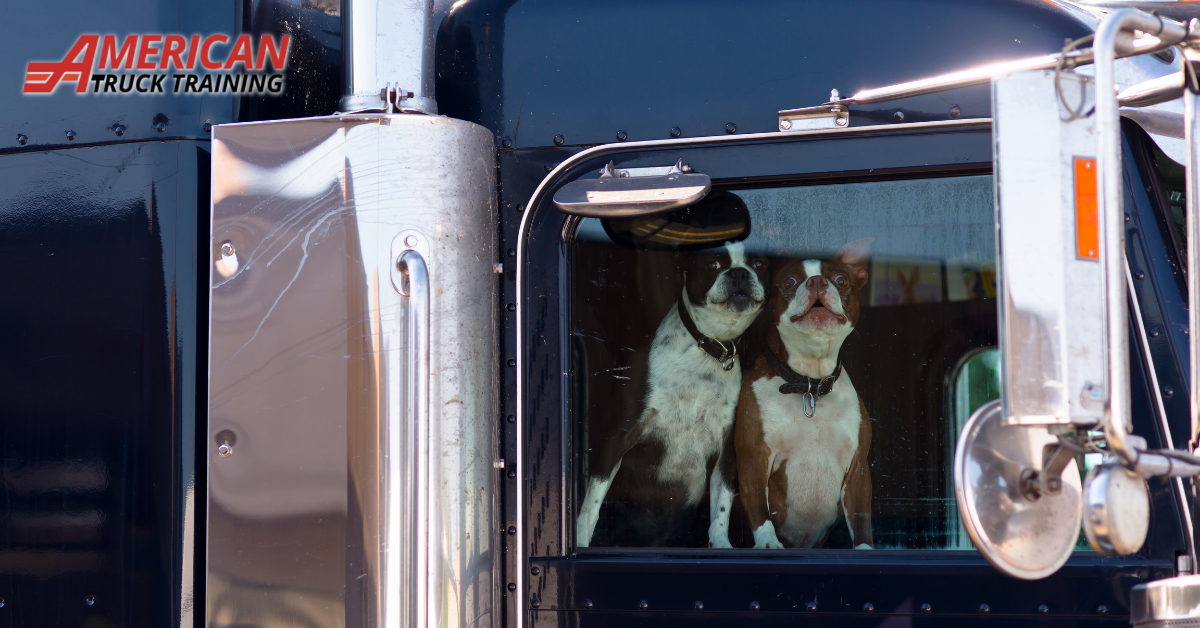 If you want to be a solo owner-operator and are a dog lover, you may want to consider bringing your co-pilot with you on your OTR routes! Having a "truck pet" has numerous advantages for both you and your pet. When trucking with your dog, there are a few things to keep in mind.
1. Bring plenty of food and water.
On the journey, it's critical to have enough food and water for your pet. However, finding pet stores that provide high-quality food may be tough if you are driving for long periods of time. Before you leave home, make sure you have enough food for your dog by stocking up. Bringing bottled water with you on the trip will help your pet stay hydrated no matter where you are on your route.
2. Dog-proof your truck.
Unless you own your own truck, any damage caused by your dog, as well as any additional cleaning required, will usually be charged against your driver's deposit or removed from their salary. Therefore, it's important to dog-proof your rig!
First, make sure there isn't anything that your dog will get into or want to chew on. Also, make sure that any human or dog food is out of reach in a compartment or a bin they can't destroy. And, although it'll be impossible to eliminate all evidence of dog hair or drool, there are certain things you can do to help, such as using seat coverings. You should also bring extra towels or chamois in case you need to dry your pet or clean off the mud on your seat. Lastly, keep paperwork in a place where it's not going to get damaged.
3. Pack for you and your dog!
While dogs require more attention than belongings, don't forget these important items for your long drive:
Dog bowls, one for food and one for water
A leash and collar with rabies tag and contact info just in case!
Doggy bags to dispose of waste
Cleaning supplies in case there are any accidents
Dog chews or toys to keep them entertained
Dog crate – this item isn't necessary, however, if your dog is particularly rowdy, you may want to consider keeping them in their crate while you're on the road.
4. Let your dog out of the truck often.
Your pets may become irritated if they are confined to your truck for long periods of time. Make sure they get enough toilet breaks, playtime, and exercise throughout the day. This is not only excellent for your pet, but it is also good for you. There are many pet-friendly truck stops that have dedicated areas for your dogs. Check out this page to find pet-friendly rest stops on your route. It's also great if your furry friend has a few toys to play with while you're driving.
One more important item to discuss – not all trucking companies allow pets! You can find a list of trucking companies that allow pets here! Search this list first to see if the company you're interested in working for will allow you to bring your pet along on your trucking routes.
Many trucking companies allow drivers to bring a dog in their trucks for a refundable or non-refundable deposit, flat costs, and/or cleaning fees. TruckingTruth also mentions that companies primarily transporting local, LTL, or regional freight, as well as companies that transport refrigerated freight, will often have a "no pets" policy. Because pet regulations are always changing and being updated, you should double-check with the trucking companies you're interested in starting your career.
Having a pet as a traveling companion comes with a lot of benefits, but it also comes with a lot of responsibility. Taking good care of your pet will result in many years of awesome adventures together.
If you're interested in starting your trucking career, give American Truck Training a call at (405) 254-5556. We will provide you with the knowledge and skills it takes to get your trucking career on the road.