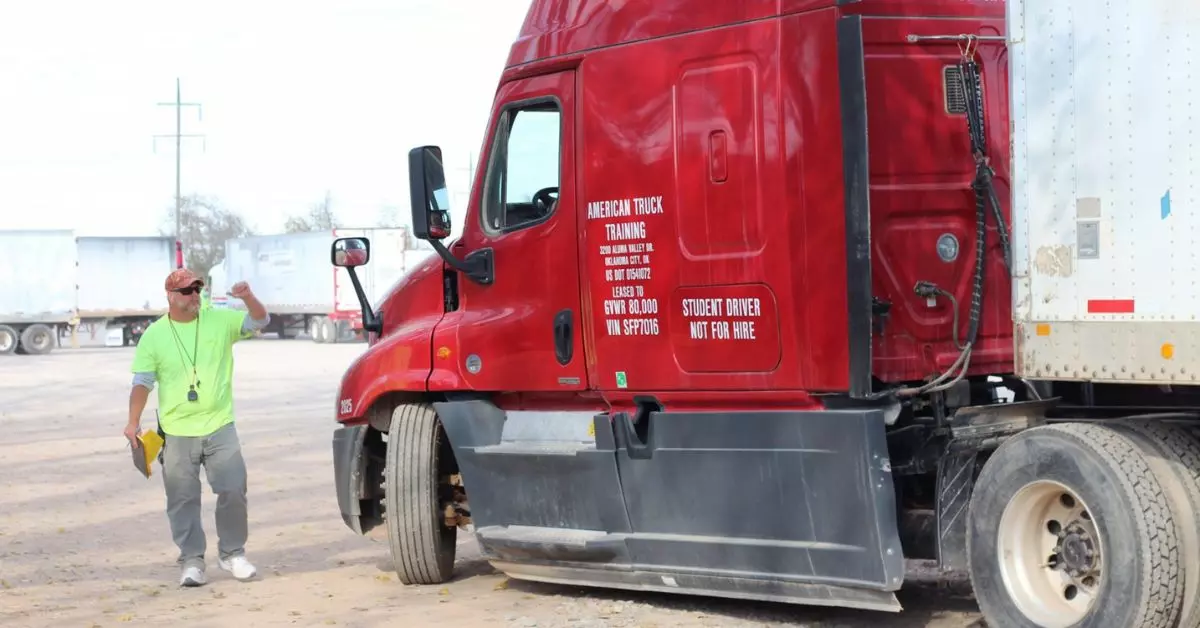 Most truck driving schools are less expensive than conventional higher-education programs. Still, paying out of pocket for these services can feel intimidating. Fortunately, you can learn how to pay for CDL training without breaking your budget.
Some people who may hear that CDL training in OKC can be expensive just give up on their dreams early. Don't make the same mistake. See some of your options below or you can always give American Truck Training a call to discuss your options.
Programs for Reimbursing Tuition
We are honored to work with some of the best trucking firms in the business, many of which will pay your Class A CDL tuition. That sum was contributed to a loan for CDL training expenses. Apply now and we'll be pleased to help you learn about career opportunities with top trucking companies that provide tuition reimbursement.
Company-Sponsored CDL Training
Some trucking businesses offer CDL training that is sponsored by the hiring company. If you have the time and dedication to dedicate to a truck driving position, this can be a choice for you. Much of your truck driver training tuition may be paid for by the trucking firm in exchange for you driving for them. Apply now, and we would love to discuss this possibility with you.
Veterans Post 9/11 GI Bill®
The Post 9/11 GI Bill® offers additional benefits for CDL training tuition and even an apprenticeship program to members of the armed forces. You might be qualified to use your GI Bill® to cover some or all your training-related expenses, including tuition. In actuality, a few carriers are participants in the Military Apprenticeship Program. With this program, you might be qualified to receive a monthly educational benefit check in addition to your new job's weekly pay. This might mean an extra $1,400 per month for certain veterans. Your spouse or kids may also be eligible for this benefit. Apply right away, and we'll guide you through the procedure.
Personal Financing
Another alternative for financing is to utilize credit or bank cards, your bank, family loans, life insurance, or refinancing. Whatever direction you choose, our staff will work with you to discover the most inexpensive solution.
Grants & Financial Aid
Through regional, national, and state programs, you may be eligible for financial aid for CDL training. We can assist in determining your eligibility for funds for CDL training through the WIAO, VocRehab, VA, or other organizations. Request info now or give us a call and we can help answer your questions.
Pell Grants
Pell grants assist students who come from low-income families. However, many people fail to qualify for this solution due to its many requirements.
If you think you may be eligible for a Pell grant, FAFSA offers applications online.
WIA Grant
A WIA grant would be an ideal aid package if you experienced a recent layoff. These programs sometimes pay for most, if not all, of your CDL training. WIA applications are lengthy, so devote enough time out of your day to go over them in detail.
State Grants
If you worry that the above options will not help, a state grant might. These financial aid solutions act like scholarships; states will reward aid to students for specific qualifications or achievements.
You should apply for multiple state grants for the most significant return. Although you shouldn't expect to qualify for every reward, you may significantly reduce your debt.
Federal Aid
Federal financial aid generally has lower interest rates than most private loans. Unfortunately, this option is unavailable to students who do not attend Title IV schools. Most CDL Training in OKC does not qualify as a Title IV program.
Learn how to pay for CDL training with federal aid by contacting the U.S. Department of Education.
The Importance of Completing Your Education
Financial stress is the biggest reason why students avoid their education. Don't let these anxieties keep you from pursuing your passion as a truck driver. Figuring out your plan to complete your CDL training from application to your first day on the job is what we are here for!
The modern trucking industry is lucrative for many, so get on the road as quickly as possible to start paying back any potential loans.
Learn from the Best at American Truck Training OKC
American Truck Training in OKC is the premier educational program for new truckers. We guide hundreds of students down the path of success, so they are safe on the road.
Our veteran truck driver instructors have years of on-road experience and wisdom. We also promote multiple learning styles with interactive sessions. This way, you can feel confident about passing the CDL test.
Learn more about how to pay for CDL training by calling us at (405) 254-5556. American Truck Training in Oklahoma City, OK, is here to help.